History of The Course
The Atascocita Golf Club has a long, rich history in the Lake Houston area. Originally opened in 1957 as the Atascocita Country Club in Humble, Texas, it was the oldest club in the area and boasts some of the richest collegiate golf history found anywhere in the country. The list of golfers who went on to become professionals after playing here is impressive to say the least.
Going back to the beginning, the original club was built on the banks of Lake Houston by a syndicate including the families of landowners W.M. Wheless and J.S. Abercrombie. Wheless acted as club president until his death in 1971.
The development was cut out of some pretty thick country, flush with deer, snakes, critters, and plenty of wild hogs. Farm to Market road 1960 had just been paved the year prior, and the "low water crossing" had just been replaced by the McKay Bridge over Lake Houston. The club extended across both sides of FM 1960.
An article from the old Houston Press newspaper in April 1956 describes the following: "The Atasocita Country Club opens with four miles of lakefront on beautiful Lake Houston representing a $1 million investment. Members will have the use of a restaurant, snack stands, and 18 hole golf course, two boat launching ramps, bathing beaches, a bath house, a basin for small boats and yachts, a playground, fishing spots, hundreds of acres of picnic grounds, driving range and practice greens, water skiing instruction and a huge glassed-in meeting place or dance hall."
Atascocita drew people from all over the Houston area…no small journey considering the lack of freeways in those days. Golfers came to play the great course. Families came to enjoy the lake and picnic areas. Many large corporations and organizations such as Texaco and the Houston Bar Association rented the facility for huge picnics and gatherings. The annual Labor Day Weekend Golf Tournament was worthy of attention by all the Houston newspapers.
The original golf course was designed by Ralph Plummer, a top architect of the day, who simultaneously built the famous Champions Cypress Course in Houston. Plummer also designed Lakeside in Houston and the famous Colonial Country Club course and Preston Trail in the Dallas/Fort Worth area, among others.
The club was sold in 1973 to residential developers Johnson-Loggins. A new clubhouse facility was built at a cost of $1.5 million, and opened in 1975. Pools and tennis courts were also added at this time.
With the development of the residential area in the 70's, the club became even more of a social attraction, regularly organizing trips for members to places such as Colorado, Las Vegas, and Mexico to name but a few. Entertainment acts such as Lou Rawls were brought to the club.
Scorecard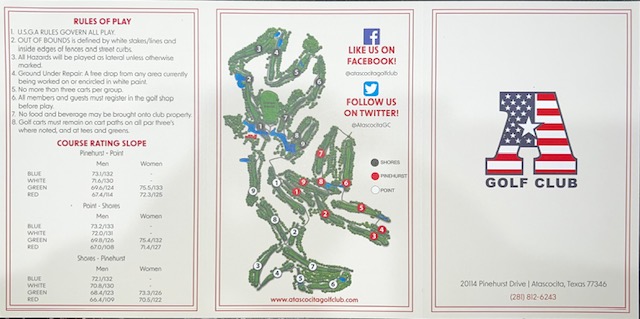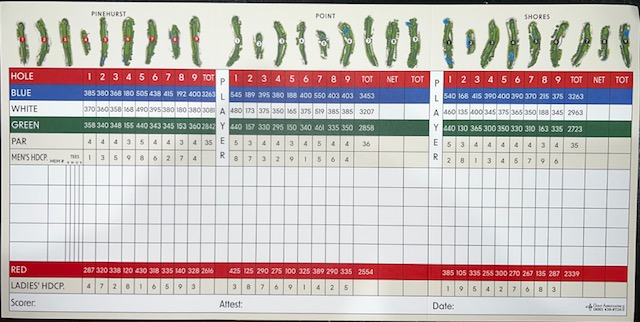 Course Policies
Please take the time to read all policies listed below. It is imperative that you read and understand so that you are not caught off guard when policies are enforced by our staff.
We feel the need to stress these two items:
-Proper golf attire is required to play on-course or while at the practice facilities.
-All players are to pair up in carts. This rule does not get dismissed if a member or guest brings their own private cart. You must pair up even if you bring your own private cart.  Single rider carts may be purchased for an additional fee.
Dress Code
A collared shirt or appropriate golf shirt is to be worn at all times.
Proper golf attire is required at all times.
No metal spiked shoes, boots or flip flops.  Shoes must be worn at all times due to the use of chemicals on course.
Handicap Flags
    If a player is requesting a handicap flag for the ability to modify our normal cart restricted areas, please call the pro shop prior to arriving for your tee time.  AGC aligns with a players personal vehicle registration.  If a player has a handicap license plate or hang tag (permanent or temporary) issued by their state of residence, they are eligible for a handicap flag.  Approved handicap flag carts are then allowed to drive in the rough to a tee area and in the rough approaching a green.  To ensure the best possible playing conditions, carts are not allowed on the fairway approach areas, onto mowed tee boxes, or off the cart paths when weather constitutes a cart path only restriction.
Rules of Play
U.S.G.A RULES GOVERN ALL PLAY.
All hazards will be played as lateral, unless marked otherwise.
No more than 1 cart per 2 players. This includes private member or guest carts.
All members and guests must register in the pro shop before play.
NO FOOD OR BEVERAGE may be brought onto course property. Private coolers are welcome but are subject to search. In keeping friendly with TABC policies, NO alcohol is to be brought ONTO the club property.
Golf carts must remain on paths on all par threes and beside all tee and green areas.
All singles and doubles will be paired with other players unless there are no other players to pair the single or double with.  This could result in a delay of a single or doubles starting time in order to maximize the use of the tee sheet and carts.
Atascocita Golf Club and our staff are not responsible for damage caused by golfers to homes, vehicles or any other property.
We thank you for your support.
Your Atascocita Golf Club Team.
---
Little A Par 3 Course
The Little A has its own tee boxes and all yardages are 61-138
*This course is integrated within our regulation Shores course and may not be available to play simultaneously with regular play.
Scorecard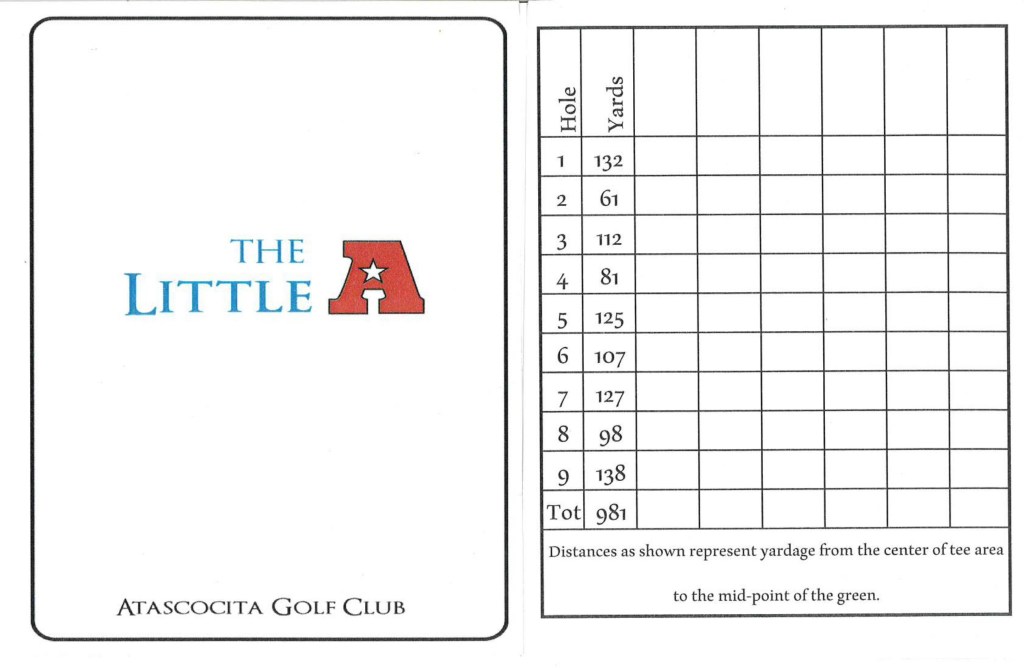 ---
Photo Gallery